Discover the Magic of Easter in Granada: From Semana Santa processions to local specialties.
Granada is a city that never fails to enchant its visitors with its rich history, stunning architecture, and unique cultural traditions. During Easter in Granada, the city comes alive with an even greater sense of magic and wonder. It's a time when locals and visitors alike come together to celebrate the season with a range of traditions and festivities that are steeped in history.
The processions of Easter Wholy week in Granada
One of the most striking traditions of Easter in Granada is the processions. The Holy Week is a time when the city's streets are filled with processions of elaborately decorated floats carrying religious figures through the city. The processions are accompanied by the sound of drums and trumpets, adding to the solemn yet awe-inspiring atmosphere. It's a spectacle that draws thousands of visitors from around the world to witness.
Easter in Granada is a distinctive festival that has been celebrated since the 16th century. It went through a period of Baroque splendor that started in the late 1500s and continued through the 1600s. During the 1800s, the festival experienced a period of decline, but it made a significant recovery during the 1900s, with the formation of the 32 brotherhoods that now organize the processions.
The processions themselves are a sight to behold. Each brotherhood has its own distinctive costume, with some wearing long, pointed hoods that cover their faces. They carry heavy, ornate floats depicting scenes from the Passion of Christ, which are carried on the shoulders of dozens of men. The floats are often adorned with flowers and candles and are accompanied by bands playing mournful music.
The processions wind their way through the narrow streets of the city, stopping at various points to offer prayers and perform religious rituals. The atmosphere is solemn and reverential, with many of the participants and spectators moved to tears by the powerful emotion of the occasion.
The processions are organized according to a strict timetable, with each brotherhood given a specific time slot to make its way through the city. The streets are lined with spectators, many of whom have been waiting for hours to catch a glimpse of the floats and the participants.
The Easter processions in Granada are more than just a religious celebration – they are a testament to the city's rich cultural heritage and a showcase of the devotion and dedication of its people. They are a reminder that, despite the passage of time, some traditions are still important and worth preserving.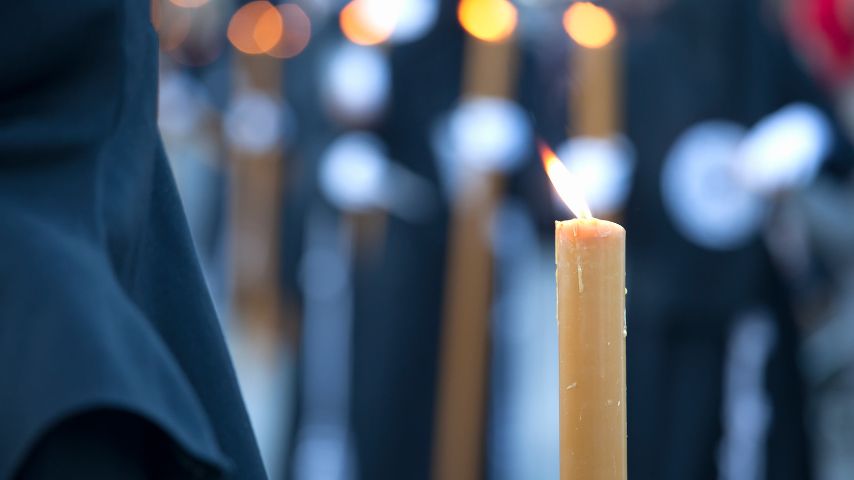 Easter in Granada, a route of tradition and culinary discoveries!
Precisely, combining gastronomy and Easter, the city has several establishments called "cofrade" bars. These are places where everything related to brotherhoods takes center stage, whether it be in decorative elements or in the conversation topics of their regulars. A cold beer, a good tapa, and a chat about processions are the best incentives for many and a source of curiosity for others. YOu can find them in the city center, or neighborhoods like Zaidin.
Pastry shops also fill their windows with sweets that speak of Easter, among which "torrijas" stand out. The pastry tradition of the Passion days is widely known by all, with "roscos", "pestiños", or "leche frita" being almost indispensable products. There are also "nazarenos" candies on the shelves for the delight of the little ones.
So where to go and what popular treasures to explore during Easter in Granada?
I leave you with some suggestions, but remember walk around the city and explore!
At Bar León, visitors can embark on a journey through the Holy Weeks of half of Spain while enjoying a beer with its corresponding tapa. This historic establishment, located next to Plaza Nueva on Calle Pan, is transformed into an entire exhibition of brotherhood posters, not only from Granada but also from other places.
The León-Guerra brothers have made their bar a year-round meeting point for brotherhood members, particularly during Lent and Holy Week. The menu caters to all tastes and needs, from quick snacks to homemade dishes and fine dining experiences. Recommendations for these days range from their popular paella to game meat, all of which are exquisite.
Bar León also offers delicious breakfast options, such as the classic grilled loin, poor man's potatoes, ham, and fried egg, with a Lenten touch. The bar's atmosphere captures the essence of Holy Week, with the smell of incense and good cooking. Joaquín and his family have been serving tapas and meals to several generations of people from Granada, making this legendary bar a must-visit for anyone looking for a taste of tradition.
This establishment on San Marcos street (next to San Antón) exudes an Easter atmosphere all year round. Its walls and ceilings are adorned with the largest collection of brotherhood-related items, such as posters, photographs, medals, small dolorosa images, and sacks. Memories of El Rocío and bullfighting are also on display, complemented by incense burners, screens projecting brotherhood videos, and the aroma of Vicente del Paso's kitchen.
For over thirty years, it has been a go-to spot, even more so during Holy Week. The central location attracts brotherhood members to its tables and bar for lively discussions after the processions. The kitchen takes center stage with its tapas and rations, including the popular lomo que te como or chicken wings. Not to be missed are the prawns and the famous croquettes, which have a fan in singer José Luis Figueroa El Barrio. Whenever he visits Granada, he heads to Rincón del Cofrade to have the delicious croquettes that Vicente prepares.
After Holy Week, Rociero airs and Sevillanas music fill the bar. And every night at midnight, the lights go out, candles are lit, and everyone sings the Salve Rociera, which surprises many new customers. Fervor, devotion, and tradition coexist with cold beers, lomo dishes, and fried eggplants throughout the year.
During Easter in Granada countless hours are spent wandering the narrow alleys, immersing oneself in the electrifying atmosphere that fills the air.
However, amidst all the excitement, it is important to nourish one's stomach as well. Granada, a city that takes great pride in its gastronomic culture, is renowned for its numerous bars and eateries that offer an array of mouth-watering dishes.
One such establishment is Bodegas Castañeda, nestled between Gran Vía and Calle Elvira. This rustic bar, managed by José Torres, is known to have a loyal clientele throughout the year. However, during Holy Week, the bar becomes a hub of activity, with its counter bustling with people eagerly waiting to taste the exquisite culinary delights that come out of its kitchen.
From cold to hot dishes, the menu boasts a plethora of options to cater to every taste bud. The boards of cured meats, in particular, are a favorite among visitors and locals alike. It is a common custom during Holy Week to follow each brotherhood with a stop at a local bar, with Bodegas Castañeda being a popular choice for many.
Although waiting in line may be necessary at times, the reward is well worth it. The culinary experience at Bodegas Castañeda is one that is sure to leave your stomach and palate more than satisfied.
During Holy Week, many people in Granada consider it a must to hear a saeta and enjoy a street sandwich as night falls. Bar Aliatar, located on San Sebastian Street, is the go-to place for those who seek out the best sandwiches in the city center. This legendary establishment has been a Granada institution since its opening in 1947 by founder Salvador Peña Palacios. He had the foresight to offer fast food with a twist, unknown in Andalusia at the time, creating a menu with unique ingredient combinations served in tasty sandwiches. Today, these sandwiches continue to be the main attraction of the establishment, and it is rare to find a Granadino who has not enjoyed them.
The most sought-after sandwiches include the San Francisco with mayonnaise, Montijano, Africano, fava bean with ham, artichokes, and Russian salad. The extensive menu offers something for everyone.
Visitors who spend easter in Granada flock to Aliatar, queuing up at the door. Elderly couples who have been visiting for years mingle with young people experiencing their first Holy Week on the streets. Tourists, drawn by the commotion, join in and try the delicious sandwiches that have been served for generations in this historic local of the city. At around 10 o'clock at night on any day of Holy Week, the few meters of San Sebastian Street between Reyes Católicos Street and Bibrrambla Square are transformed into a bustling hive of people, with Aliatar at the center of it all.
The Convent of the Comendadoras de Santiago in Granada is famous for its delicious sweets. Located in the Realejo neighborhood, the nuns are renowned for their culinary skills, preparing homemade dishes and pastries that are heavenly. The Brotherhood of the Olive Garden, closely linked to this convent, promotes the sweets prepared by the nuns during the Holy Monday procession. 
The sweets of the Comendadoras are made with the best products and with great care and love. The unique richness of these sweets comes from the combination of egg yolk, almonds, fruits, honey, sugar, and cinnamon. The demand for these sweets is highest during Christmas and easter in Granada, and people go to the convent to get them. 
The pastoral letter Sponsa Christi urged the production and marketing of sweets and desserts made in the kitchens of convents. The Comendadoras have a secret formula for their fruit syrups, which the nuns attribute to a revelation from the Virgin during the Disentailment, and which helped them find a way out of their economic difficulties. Since then, the rich sweets of the Comendadoras have been a staple among the people of Granada.
"At six o'clock at the door of Los Italianos?" Who in Granada hasn't established that appointment at some point? The well-known spot on Gran Vía serves as a meeting point for many people every day, something that during easter in Granada becomes very common. And since you're already there, why not enjoy good ice cream?
This establishment is famous for having some of the most delicious ice creams in Andalusia, and the lines of people waiting to be served inside are the best proof of it. Cassatas, slushies, cakes, and of course, ice creams delight both children and adults. This year, with good weather expected for Holy Week, many will take advantage of their search for processions on the streets to make a stop and enjoy their flavors of stracciatella, pistachio, or chocolate.
Just as the arrival of Holy Week is a symbol of the beginning of spring, for many Granadinos, the season really begins when Los Italianos opens its doors, as the establishment remains closed during the cold months. Since 1936, this ice cream parlor has refreshed, generation after generation, the springs, and summers of the people of Granada.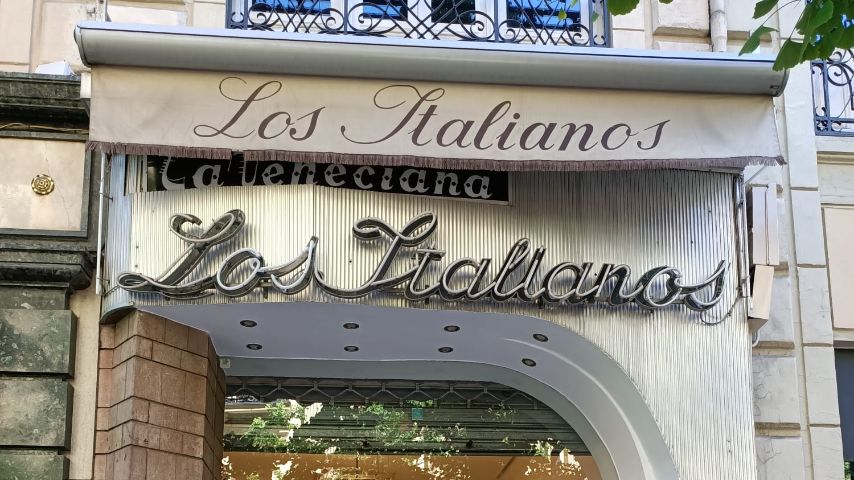 If you are spending your easter in Granada, check the local press to learn about the festive events. Sources like Granada Direct might give you the information you need for an immersive experience.